eCOMPETES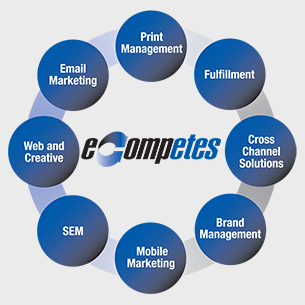 Control your Print and Graphic
Communications Universe, and
"Touch" your Customers, the way
they want to be "touched" across
multiple channels.
eCOMPETES connects you with
Consolidated's network of
distribution centers, where you
have 24/7 access to your
inventory and order status data.
Transactions are updated in real
time, providing for maximum
inventory turns, while protecting
against costly stockouts.

Reduce inventory carrying costs through standardization
Convert to print and fulfillment-on-demand
Improve operational efficiencies
Eliminate costs associated with print obsolescence
Drive administrative costs out of the print procurement process
Control Brand, Content, and Message across multiple channels
Track your total spend for Print and Marketing Budgets
Maximize your ROI for all Marketing and Cross Media Campaigns