e-LINK™
At Consolidated, we believe that in order for technology to benefit our customers, it must be easy to use and deliver bottom line results. Using our powerful e-LINK™ e-Commerce platform, you'll be provided with the most comprehensive—and cost effective—print and document management system available today.
e-LINK™ provides a multitude of management and reporting tools as well as a totally integrated customized "online" catalog to manage all your printed products. e-LINK™ blends our 60+ years of Forms and Printing Management expertise with the power of today's Internet and network technology. User ID and password security allows all of your distributed employees to process orders, review proofs, review transaction history, check inventory status, and track shipments—all in real time—via the internet—wherever and whenever they want.
Simply stated, e-LINK™ makes it easy for all your employees to conduct e-business.

Place orders, review inventory, access reports, track shipments – all with just a click of your mouse
Receive instant e-mail notification when orders are placed and when they ship – including a tracking number
View images instantly
Secure order processing directly to Consolidated's e-Procurement system
Facilitates the use of Procurement cards – each transaction is conducted using encrypted SSL security
Flexible format to meet each user's specific needs and requirements
24/7 system accessibility

Send special instructions or art files via email pop-up menu
Detailed text descriptions
Customized catalogs and categories by cost center and/or location
Easily create customized – user specific catalogs
e-REPORTS uploaded in real time to help you manage your Print Universe
Easy to use search and navigational tools make it easy to find items
Easy to use "shopping cart technology" ensures accuracy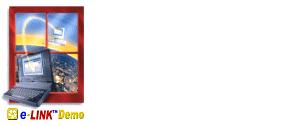 If you would like to interact with a
Catalog Demo, click on Client Login
or e-LINK™ Demo and enter
Username: elink / Password: demo.